Easy installment scheme has been launched in every district of the state from Monday. In this, the head charges associated with the bill till 31 October 2019 will be completely waived for which registration will have to be done from 11 November to 31 December 2019. On Monday, OP Dixit, Director of Commercial Tax, Eastern Power Distribution Corporation, Varanasi, said these things.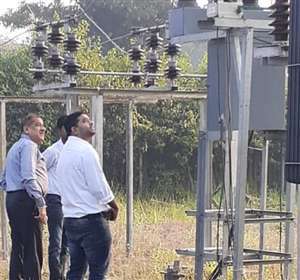 Inaugurating the easy installment scheme, he inspected the Chopan and Dala sub-stations by taking out the promotional van from the sub-station at Chopan. It said that to take advantage of the scheme, consumers have to deposit five percent of their outstanding bill. Urban defaulters have been allowed to pay bills in 12 installments and rural defaulters in 24 installments. With this, a bill has to be deposited for each month. If a consumer did not pay a bill in any month, he would have to pay two months in the second month. If the bill and monthly installment are not deposited for two consecutive months, the registration of the consumer will be canceled. After giving the above information, a publicity van was dispatched to the city.
Among them were Deputy Block Officer Vivek Kumar, Under Engineer Brahmadatta Patel, Dala JE Akshay Kumar Yadav, Rajan Sonkar, Javed, Rampravesh, Chandu, Dina Tiwari, Rajesh Yadav, Vipin Srivastava etc.