Colombo: Former Sri Lankan Defense Minister and Sri Lanka People's Front candidate Gotobaya Rajapaksa will be the country's next president. Sri Lanka's polling for the presidential elections took place yesterday. Rajapaksa is leading with 50.7% of the votes counted on Sunday, while his main rival Sajit Prem Das got 43.8% of the vote.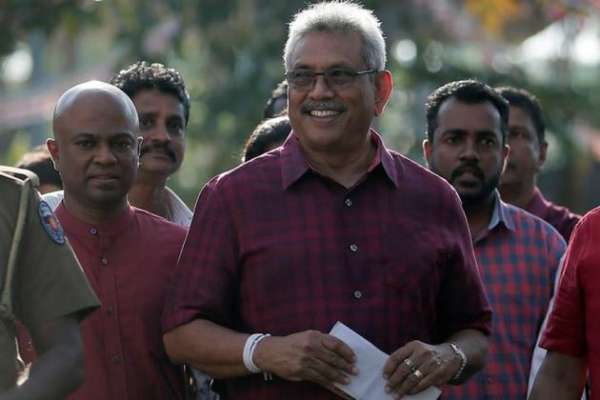 Meanwhile, Rajpaksa's party has issued a statement claiming victory in the presidential elections and thanked the voters for peaceful polling. Prem Das conceded defeat in the polls. Sri Lanka's ruling United National Party candidate Sajjat ​​Prem Das accepted his defeat in the presidential election on Sunday and also gave a blow to his rival Raj Pakesh. "It is a privilege for me to respect people's decisions," Prem Das said in a statement. I congratulate Gotabaya Raj Paksha on being the seventh president in Sri Lanka.
Former Defense Secretary and former brother-in-law of Govtabaya Raj Paksha, the younger brother of former Rajah Raj Paksha, is a controversial figure. He was accused of dangerous war crimes during the last phase of the war with Tamil separatist leader Girla Latte in 09-2008.
She left her US citizenship a few months ago
Gotabaya, a freelance media and non-governmental organization and human rights activist, left his US citizenship a few months before the president's election. The opposition alleges that he still has a US passport and has made false claims that he is no longer a US citizen. People who know him closely say that he is someone who doesn't believe in talking.
During his older brother's presidency, Gotabaya was given the responsibility of expanding the island in charge of urban development. In most Buddhist countries, Gotabaya is a favorite of Sinhalese and priests. During his election campaign, he played the Golden and Rashtravad card to win the support of the majority. The results prove that the majority of the Sinhalese have supported them in large numbers and the minorities, Tamils ​​and Muslims have voted against them.