Preparations intensified after the reported arrival of President Ram Nath Kovid at the 145th birth anniversary celebrations of Birsa Munda, who was a pioneer of tribal movements in the last decade of the 18th century. In the Samagam, which is going to be a symbol of Vanvasi pride, about 1.25 lakh tribal and forest dwellers from five states are expected to reach.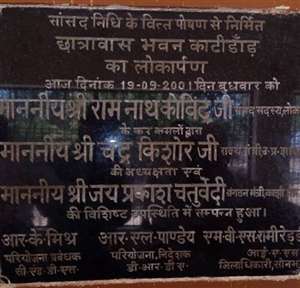 Actually, the All India Vanvasi Kalyan Ashram of Sewa Surrender Sansthan has been working in the interest of society for the last several decades. Especially the people living in the forest areas have shown the way to progress. Many youth associated with the society are currently playing an important role in nation pride. The name of Birsa Munda, the resplendent of this nation's pride, is also not an idiot of any introduction. There will be a Vanvasi Samagam on November 29 to mark the 145th birth anniversary of Birsa Munda at Seva Kunj Ashram located in Chapki of Babni Block. With the presence of President Ram Nath Kovid, about 1.25 lakh tribal and forest dwellers of the border states will be involved. According to one information, there is a possibility of involvement of prominent personalities of the states. However, Vanvasi Gaurav program is being organized by the All India Vanvasi Kalyan Ashram from 1 to 30 November.
Now since the President has to come here, grand preparations are being made for this. According to the officials associated with the ashram, the tribal and forest dwellers of Madhya Pradesh, Bihar, Jharkhand and Chhattisgarh will be included in the program along with UP. The format of the program is being prepared. During this time, the hostel and inter college will be inaugurated. Ashram is giving sanskars with education
In the tribal dominated district, where the children had to yearn for education, the Naxalites used to walk. In the same area, Seva Kunj Ashram is giving education as well as rites today. From archery practice to computer studies are done here. With the development of the area, forest dwellers are awakening the education and culture. Here, forest dwellers from all the blocks and neighboring states of the district stay in hostels and get free education. The President has already arrived
Seva Kunj has been closely associated with President Ramnath Kovid from some ashrams. They have come here before. However, he was a Rajya Sabha MP during that time. It is said that as a Member of Parliament for the hostel of forest dwellers here, they have given financial support. He came to the ashram on 19 September 2001 to release the same.
Preparation for the program is going on fast. Work is being done by making a list of programs to be held here. The rest of the program will be prepared soon after a meeting. Many more big people are expected in this program.